Regular price
Sale price
$56.50 USD
Unit price
per
Sale
Sold out
Screamin' Hot uses a therapeutic level of 0.03% capsaicin, a naturally occurring substance derived from hot peppers, as a safe and effective topical analgesic for arthritis pain.
When applied to the affected area, Screamin' Hot penetrates deep to help relieve minor aches and pains of muscles and joints associated with arthritis, backache, strains, sprains and bruises.
When Screamin' Hot is used daily as directed the effectiveness continues to increase. The amount of time for pain relief to occur varies with each person. Some arthritis sufferers may obtain relief within the first week of use, while others may experience relief later. Screamin' Hot is suitable for use for all types of arthritis.
Toast Screamin' Hot Facts

The active ingredient in Toast Screamin' Hot is capsaicin. Capsaicin is a derivative of chili peppers. Capsaicin works by depleting or interfering with substance P, a chemical involved in transmitting pain impulses to the brain. The properties of capsaicin make it an option for relieving pain associated with osteoarthritis, rheumatoid arthritis and diabetic neuropathy. Capsaicin is used to relieve muscle pain, joint pain and nerve pain. Prolonged treatment with capsaicin causes insensitivity to painful stimuli, an unusual reversal of normal expectations.
Not feeling any heat, doesn't mean that the product isn't making you feel better! It is not necessary for users to experience discomfort, heat or a burning sensation for pain relief to occur. Toast products work differently. Some people will experience an extreme sensation of heat when first using the product while others will feel no heat at all. The operative question is not "Do you feel heat?" The operative question is, "Are you feeling better?".
It depends where you use it; different parts of the body contain different numbers of nerve endings. Tolerance for capsaicin varies among people. It may take several weeks of continued use for users to experience pain relief from arthritis symptoms.
Everyone is different; with unique sensitivities or tolerances to hot and cold.
Product Safety Suggestions:
- Do not use in conjunction with heating pad, wraps or bandages.
- Do not use before or after bathing or using a hot tub.
- Avoid use in areas where there is skin to skin contact.
- When using avoid direct sunlight.
- Begin with a small amount (a dime size amount) and gradually increase as needed on reapplications depending on reaction.
If overheating occurs, cold milk can also be used to counteract the overheating sensation.
Also available on Amazon.
Share
View full details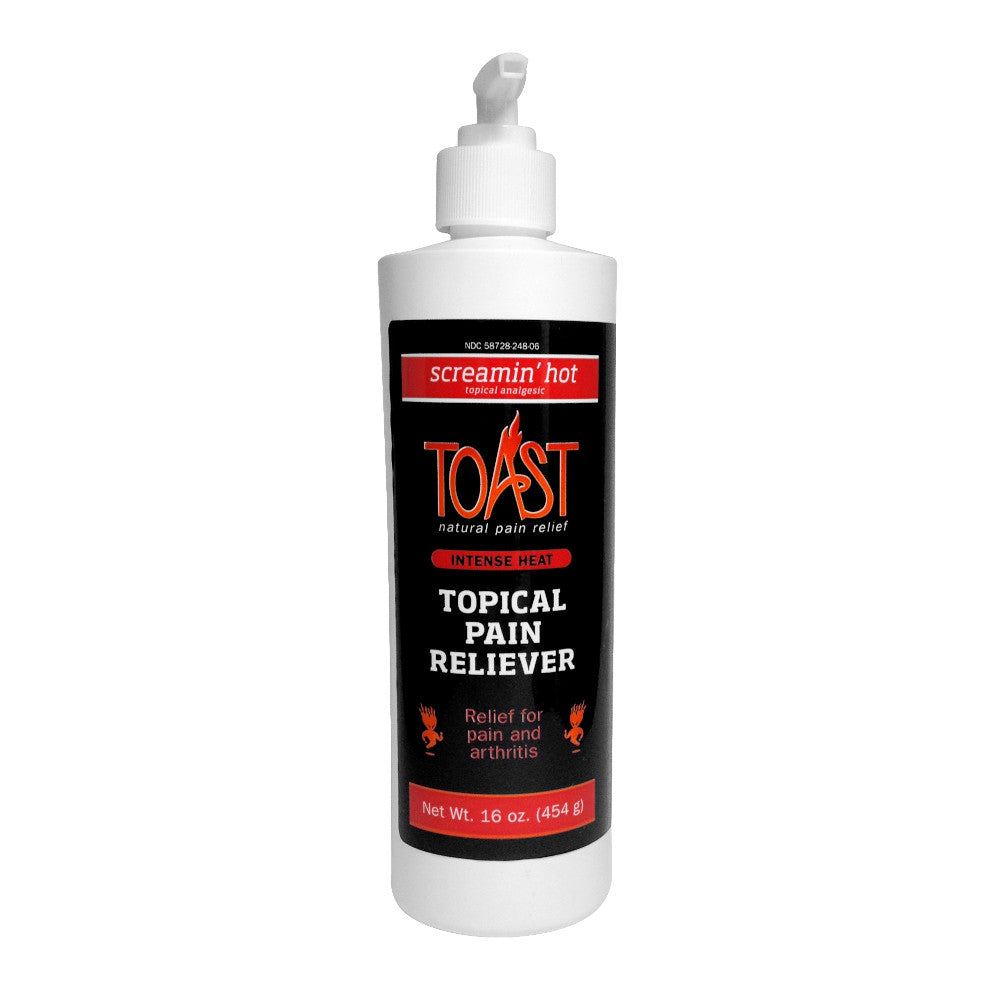 Free Shipping Opportunity

All orders over $25 receive free shipping.

Money Back Guarantee

If you are not fully satisfied with the performance of the product, you can request a refund. For a full refund, simply mail the remaining product and original sales receipt to: TOAST Refund, PO Box 232, Pittsburgh PA 15136. Allow 4 weeks for refund processing. When mailing your return, please obtain a tracking number from the US Postal Service. Limit one refund.